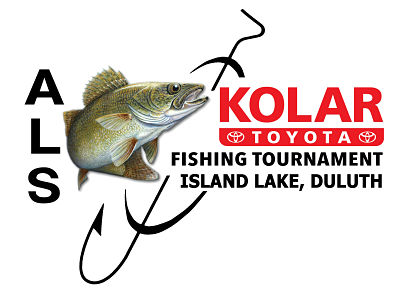 The Kolar Toyota ALS Fishing Tournament raises money to support individuals with ALS. Every contribution, one dollar at a time, adds up to help support people and and their families living with ALS.
With your help, funds from the Kolar Toyota ALS Fishing Tournament go to ALS organizations that provide services empowering people with ALS to be more independent and help their full time family caregivers in addtion to funding global research for a cause and cure.
Thank you for all your assistance. You are truly making a difference in many lives!

Never Surrender Inc is a group of dedicated men and women who join together
to raise money to fight ALS and help people with ALS and their families.
If you want to support us throughout the year, consider making us your charity of choice on Amazon!
If you have any questions about Never Surrender Inc or the Kolar Toyota ALS Fishing Tournament, please feel free to contact us.
Never Surrender Inc
4894 Miller Trunk Hwy
Hermantown, MN 55811
Office Phone: 218-302-1331
Email: sandy@neversurrenderinc.org